When you think of Hennessy you will probably get images of luxury yachts, fast cars and lots of money. In fact you will probably get a 'best of' montage of all your favourite rap videos running before your eyes. That's because Hennessy is one of the big players in the world of cognac, renowned for elegant style and a great, consistent flavour, as well as not being afraid of being edgy; the big dawg papa diddy pop has been known to sport a bottle of cognac, and Hennessy themselves have partnered with graffiti artists recently, to break the mould even further from being a drink just for those with dollar bills.
We wanted to personify the 'baller' feeling you get when drinking Hennessy by using it in our latest cocktail of the month. That's why we went in search of a chalice that would make Lil Jon and all the east side boyz, jump in joy, from the window to the wall. We would like to introduce, the Bling King.
The Bling King is a large, pure silver (read: fake silver) 'pimp' chalice, lavished with gold straws and a real dollar sign neck chain (again, not real). Wear the dollar bill with pride as you sip from a chalice that makes you feel like a stormzy god.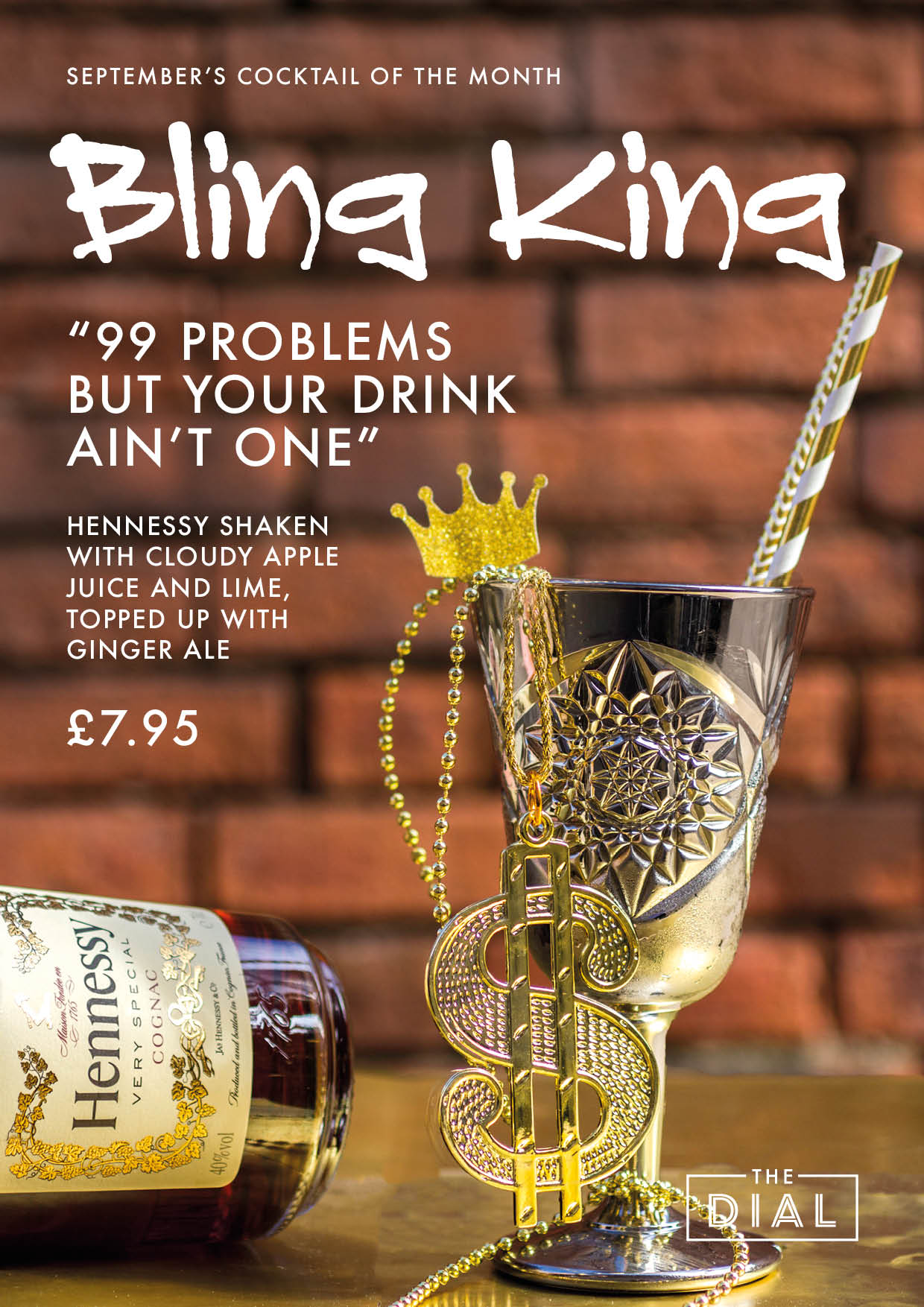 So fancy being a superstar, showing off fast cars and living life on a yacht? Put in years of hard work and become a dentist. They earn a lot of money! For great tasting drinks and a fun atmosphere, head on down, to The Dial.
What's in the mix? Let me rap it to you!
"1, 2, Hennessy to the 3,
We got a drink that will make you feel Free,
99 problems, but this drink ain't one,
Shake it with apple juice, yeah that's the bomb!
Shake it baby, shake it with that lime,
Add the ginger ale and we make you feel sublime"
I'm not a rapper, but all it took was a Bling King to make my lyrics lit.