BE THE CAPTAIN OF COOL
What is the most relaxed, chilled out situation you can think of? For me it would probably be being cradled in Dwayne 'the Rock' Johnson's arms, I can't think of a safer place. But for most it would be relaxing in a hammock on a beach so picturesque it could be on a postcard (remember them?).
That's why this month we wanted to epitomize the feeling of chill in our latest cocktail of the month. We wanted you to feel so chilled, you're ice cold. We wanted you to be the captain of cool. So what is that hammock hanging between while you're relaxing on paradise beach soaking up the sun vibes? A palm tree! What grows on palm trees? Coconuts! What's cool? Ice!
Introducing Captain Coconut's Iced Tree! This month we've managed to grow tiny palm trees that can hold your cocktail for you. Ok we didn't grow them, they are fake, but damn they are amazing.
But Captain Cocktail, what is actually in the drink? Well, I'll tell you. Obviously we wanted an awesome spirit to start this cocktail off, and we decided to go with the captain of cool, Captain Morgan's Spiced rum. Now if you've never tried rum or think it is not for you, think again! Rum, at its base, is extracted from the sweet juices of sugar cane. So if you have even the slightest sweet tooth, rum will compliment your pallet beautifully. Captain Morgan's has the benefit from years of experience perfecting their ingredients and has a great history, Captain Morgan's was a pirate defending British interests and was knighted by the same man that imprisoned him!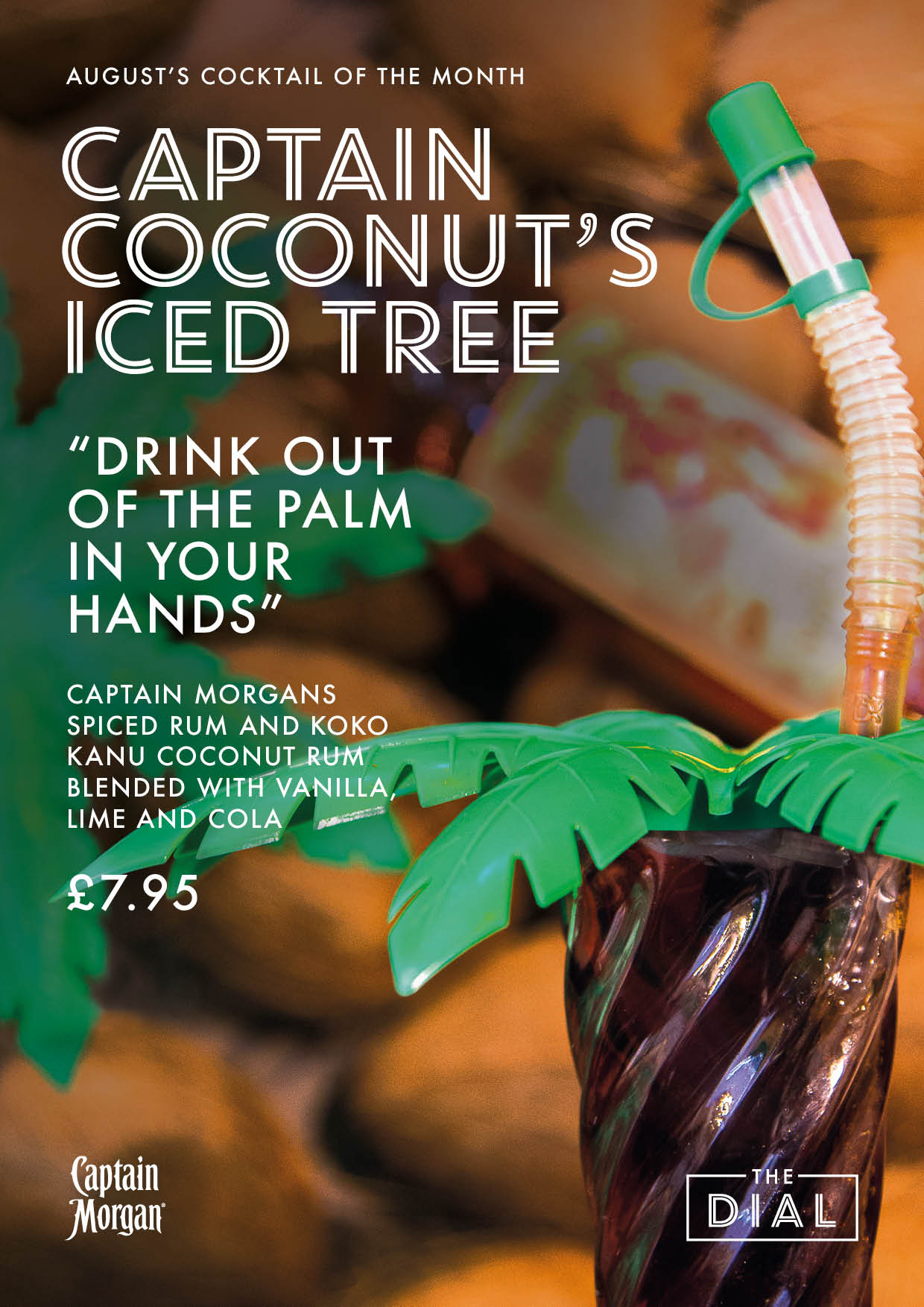 Next we used the palm tree's best friend, you could say the palm tree's child, the coconut! Now a coconut, much like The Rock, is a tough nut, they are hard to crack open but once you do you are rewarded with some tasty milk. Also like The Rock. So instead of drilling open a thousand coconuts, we've used Koko Kanu, a coconut flavoured rum to compliment the superb Captain Morgan's.
These two fantastic ingredients are blended together with lime, vanilla, cola and ice to make a slushy of epic proportions.
So the next time you want to be a captain, buy a hat and get in the bath, with a bit of imagination you will be sailing the seven seas, you will have an amazing time! But if you need to take some time out and become captain chill, head on down, to The Dial.