'Tis the season to be Stoli! Fa la la la la la la la la…
For our December Cocktail Of The Month we had to come up with something fun and festive. After much deliberation (a brussel sprout infused martini anyone?!) we decided on a red and white boot! So, we are proud to introduce to you…
Santa's Booty!
We used as the base of the cocktail, one of our favourite brands here at The Dial, Stolichnaya Vodka, a brand that we've used in quite a few of our Cocktails Of The Month. Anyone remember The Stolipop?! (We're sure a lot of you will be pleased to hear that The Stolipop is now on our regular cocktail list!)
We decided on the 2 flavours of Stoli Razberi & Stoili Citros, and to this we added apple, cranberry and pineapple juice. Did you know that it's the pineapple juice in cocktails that gives them the lovely foam on top? We wanted to inject a real taste of Christmas to the mix, so we used a delicious gingerbread syrup. All of this is shaken hard with fresh raspberries, and there you have it, our Christmas Cocktail…
it's bootyful!!!
The cocktail is garnished with a couple of sprigs of decorative holly and a candy cane… cute garnish, or extra snack?! (the candy cane that is! warning: DO NOT EAT THE HOLLY!)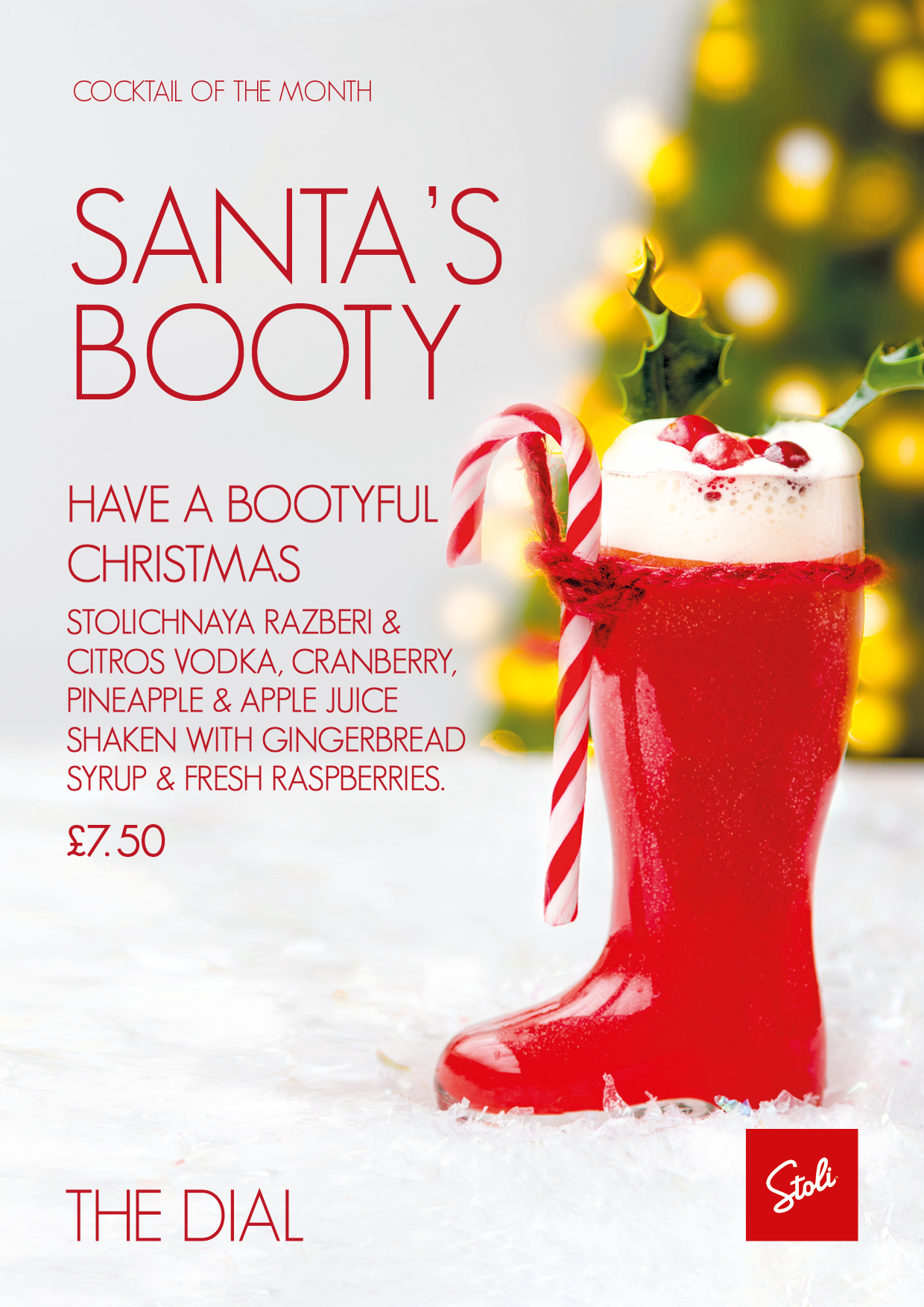 The cocktail is available throughout the whole festive season, so if you visit us this Christmas (which we thoroughly hope you do!), remember, only the most glamorous cocktails are served in a boot!
Here's wishing you all a jolly, Stoli Christmas, from all at The Dial!!!