'A Sweet Treat To Make Your Heart Beat' 
Wether you're tied up in the throes of love or stubbornly single, the same thing happens each year; a little guy comes around flapping his wings, shooting heart shaped arrows and reminding you that romance is still a part of peoples nature.
For some, valentines is a great excuse to show their significant other how much they mean to them, for others that little guy with the wings and bow is just a nuisance. But at the end of the day, don't we all deserve a little treat? Don't we all deserve something that will love us unconditionally? Don't we all deserve a little magic?
"Pour me, Drink me, Love me"
Luckily those creative angels at The Dial have mixed up a concoction of desire that stimulates the taste buds, warms the heart and never lets you down. It might even make you feel butterflies in your stomach, in a good way.
The best pairings come from simple beginnings; things don't have to be complicated to make them interesting. Sometimes you just need a little magic. That's why with this cocktail of the month, we've matched two spirits, brought them together in a heart shaped vessel and the rest is history.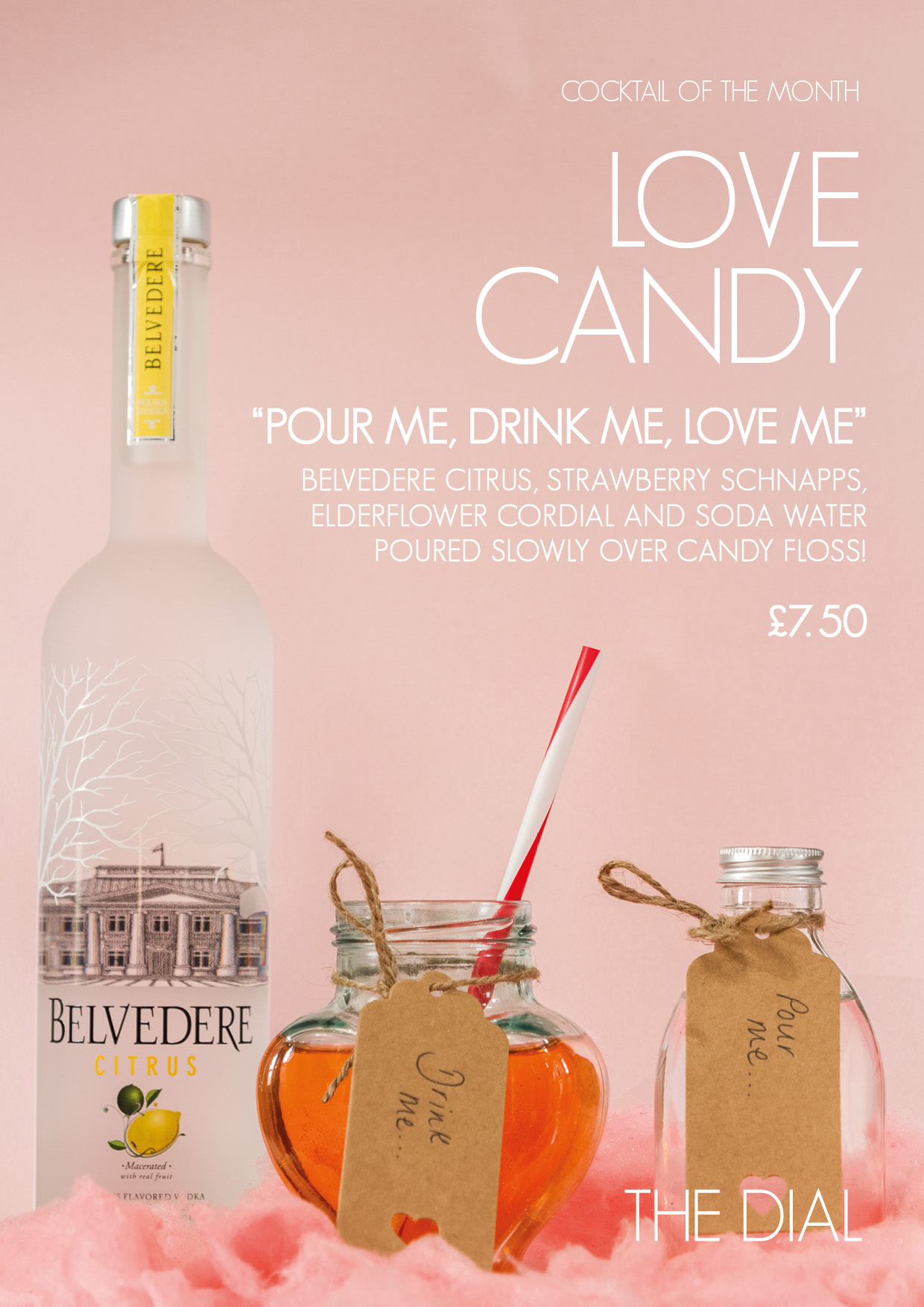 We've used Belvedere Citrus, a lemon Vodka from one of the best brands in the world, entwined it with strawberry schnapps and a hint of elderflower. Simple beginnings, but they come alive with the next part. All you have to do is pour this mix into the heart shaped jar which is filled with fluffy candy floss, and watch it disappear in a blink of an eye. Leaving you with a sweet pink treat that tastes as good as it looks.
So this month come down to The Dial, relax, and let our new cocktail remind you that the little guy shouting about love, well, he's not so bad after all!
Treat your taste buds with a taste of Love Candy.
Don't forget to tag us in your social media posts with #TheDial and #LoveCandy.
Rory – Mixologist at the Dial