Ellie started her journey at The Dial in March 2016.
You will find Ellie working in the restaurant and is often found looking after our large parties in the conservatory. We're sure some of you have had great nights with Ellie looking after you.
She was promoted to the position of supervisor on the 1st of February. She's worked super hard for this promotion and has become a great asset to our team.
When asked what she enjoys about working at The Dial she said:
"The people, both the staff and the customers"
Ellie is currently studying for her A Levels. She is taking maths, further maths, chemistry and biology (impressive right!?), and is hoping to become a doctor! Aside from attending 6th form and working at The Dial, she enjoys to waste all of her wages on online shopping!
INTERESTING FACTS:
Favourite film: Wild Child (It's iconic apparently, but we've never seen it!)
Favourite song: Mardy bum by Arctic Monkeys (her theme tune!)
Favourite dish: The Dial chicken Caesar salad, anchovies included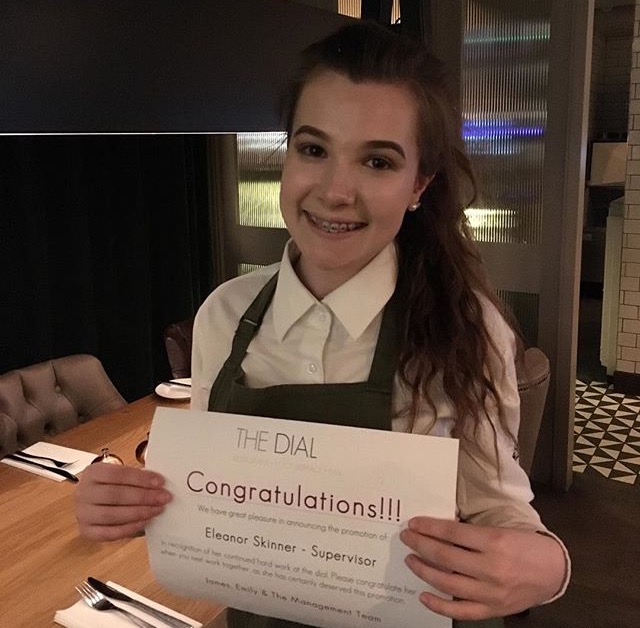 Another interesting fact is that she is the shortest member of the restaurant team. In fact, before  Rory actually learnt her name, he called her by a variety of names, including; Pippin, Merry, Frodo and Mr Bilbo, something we're sure Ellie appreciated!
TESTIMONIALS:
"Ellie will always go above and beyond for any customer" – Jez
"It's great to see her growing in confidence all of the time" – Shell
"Ellie is terrific fun to work with and a real support on shifts" – Jess
"From the shire to the fires of Mount Doom, Pippin has proved herself to be a valuable member of the fellowship" – Rory