January has been a lonnnng month, so we knew that we had to pull something out of the bag for February's cocktail of the month.
So, may we proudly introduce you to Horatio For Gin!
We decided to use, for the first time in our cocktail of the month history, Nelson's Gin; in particular their extraordinary rhubarb and custard flavour. It's creator, Neil Harrison has managed to combine two of our favourite things in the world – gin (of course) and the nostalgic flavour of rhubarb & custard sweets.
We didn't have to sail far away for this delicacy. Nelson's is a Staffordshire based distillery. In fact it is the only gin made on the Derbyshire and Staffordshire borders.
Nelson's Gin is named after the great naval hero, Lord Horatio Nelson.
Gin and boats have been linked for many years (warning, do not sail a boat whilst drinking gin) For over 200 years, no Royal Navy vessel left port without a vat of Navy Strength Gin aboard. 'Navy Strength' meant that the spirit contained sufficient alcohol to still combust, should it be spilt onto gunpowder. Anything weaker would simply soak the powder, rendering it useless and the ship, defenceless. Gin had to pass the 'proof' test.
It's flavour is also in homage to a different, but no less important Nelson, the Grandfather of it's inventor, Nelson James Harrison.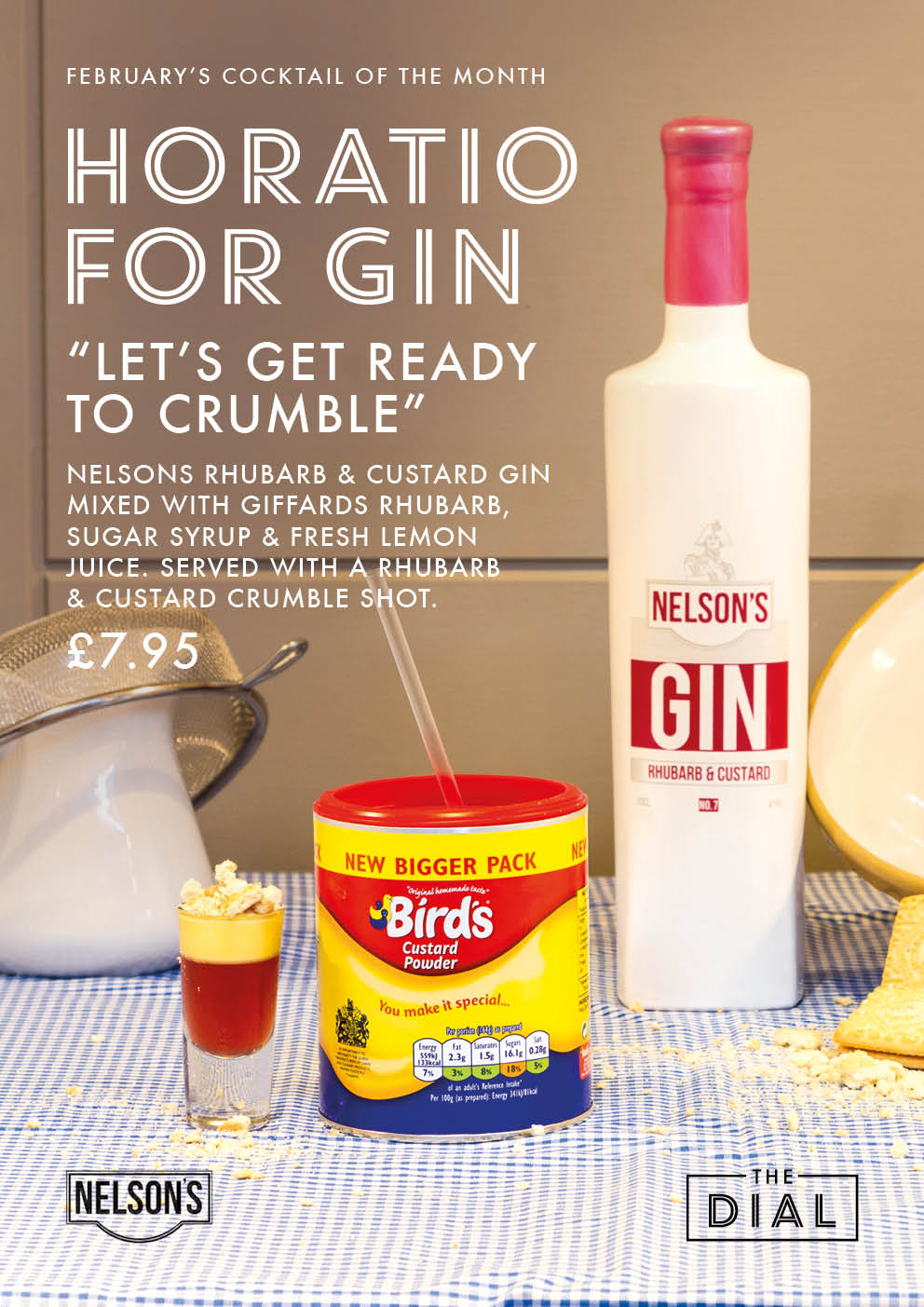 Nelson (the sailor) was renowned for his unconventional tactics in battle (or that's what Wikipedia says anyway). We here at The Dial like to think of ourselves in that same boat, so we didn't want a little thing like rhubarb not being in season to hold us back! We decided to combine the gin with the wonderful flavour of Giffard's rhubarb liqueur.
The classic combination pairing of sugar syrup and fresh lemon anchor the flavours perfectly, and we feel that the Bird's custard tub just adds to the taste!
Now, for some, that would be enough, but for an extra special treat, we've added a nauti (?!) rhubarb and custard shot finished with a crumble topping.
We think it's a HMS Victory!