The sun shining down giving its brilliant warmth, the waves gently lapping onto the golden shore of your own little paradise as you sway in a hammock under the shade of two palm trees. That's the vision we have while sipping out of our brand new cocktail, Koko-Nut, it is a taste of the Tropics.
You see mr sun is starting to come out and play and we just can't wait! So we've gotten ourselves some amazing coconuts to drink our cocktail out of and what better way than to use the tropical taste of Koko Kanu? Koko Kanu is a carefree, crystal clear rum infused with the refreshing taste of coconut and it is sure to take you away to the holidays that you look forward too. In fact Koko Kanu is inspired by the adventure, sophistication and jet setting adventures of Golden Eye! The Golden Eye estate is still a tourist attraction in Koko Kanu's homeland, Jamaica, to this day.
We didn't stop there however, we decided to mix our coconut with not only coconut rum, but amaretto, chocolate, a hint of caramel and all shaken up with pineapple juice. It's a sweet taste of paradise and the mix of coconut rum and amaretto are sure to make you dream of days at the beach.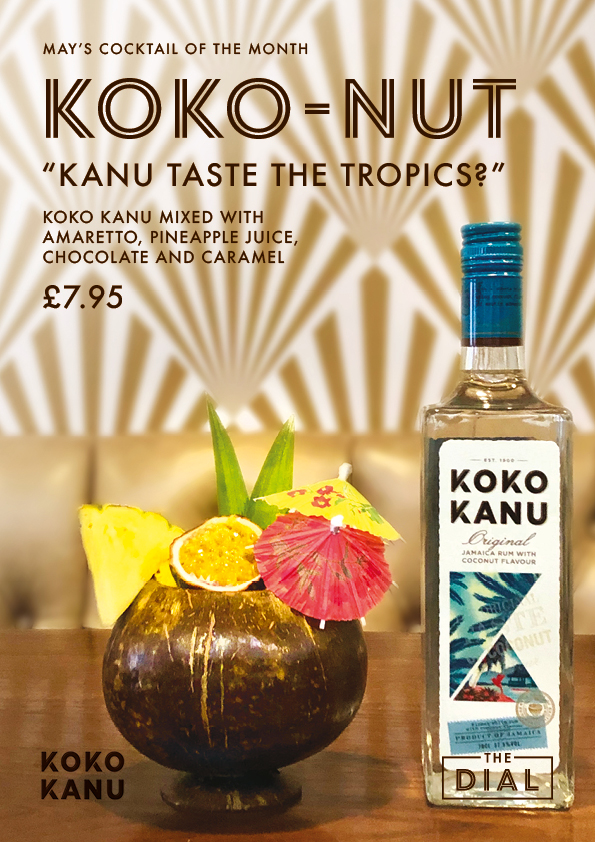 So this month, while you are looking for your next holiday destination, join us for a vacation with a taste of the tropics, Koko-Nut.