MARCO BROCCIA, THIS IS YOUR LIFE!
Marco joined The Dial on the 21st of November 2015 as a member of the potwash team. We saw the potential in him from the beginning and he soon began his journey as a chef.
He worked hard and started a salaried position as a commis chef on the 26th of August 2016.
Marco was promoted to the position of Chef de Partie on the 31st of March after months of hard graft and increased confidence. His English has vastly improved too (although i'm sure we can still spot the odd Italian word when stressed!)
You can usually see him working on the main course section.
He particularly enjoys the style of the food he creates at The Dial, and enjoys being part of the chef team.
In his spare time he enjoys reading and working out at the gym and he's also partial to the odd espresso! (he is Italian after all!)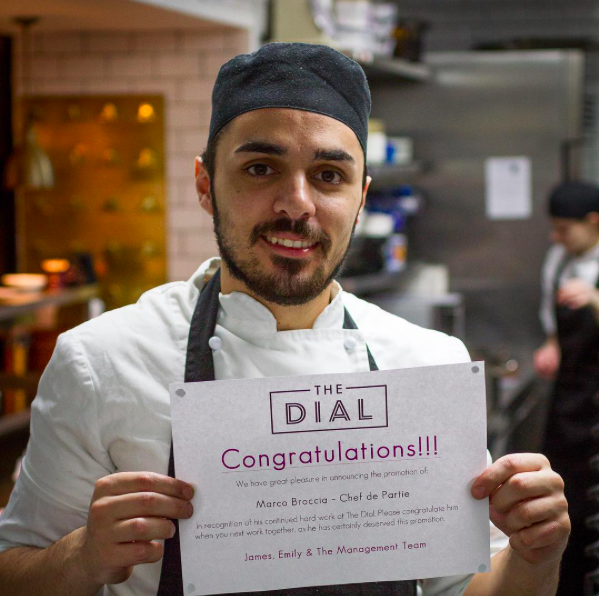 TESTIMONIALS:
"Marco has really come from strength to strength in his time at the Dial! He is professional but super friendly and a real pleasure to work with" Jess, Manager
"He has a great personality and is well liked and respected by the team" James, Head Chef
"Marco has progressed massively since his first interview with me. He is a fab member of the team and always great fun to work with!" Kate, Manager
CONGRATULATIONS MARCO!!