NEW BALLS PLEASE
Who doesn't love a good game of tennis, especially when Wimbledon is on? It's a cracking sport, mostly everyone is well mannered and polite, the crowd gets dressed up and the nation adopts whoever they can to be their shining hope for victory on the courts (no matter where they are really from). That's why we wanted to serve up a real treat with our cocktail of the month.
You might be thinking you cant just serve orange squash as a cocktail! Well you could! But we went a few steps beyond that and went ahead to create our very own custom tennis ball glasses. That's right, you get an oversized tennis ball with a glass fitting perfectly inside of it to hold your drink and your dreams.
We put a lot of effort in this vessel but we didn't want to back hand the important part, the cocktail! Sticking with Wimbledon tradition we have created a strawberries and cream mix using real strawberry puree, strawberry liqueur, and white chocolate syrup.  Using the white chocolate we created the taste of strawberries and cream, without the cream. It's magic, but we don't want to make a racquet about it.
The real ace is Appleton signature rum. You may have heard of it since the Appleton estate has been around since 1749, in fact it is the longest running sugar estate and distillery in Jamaica.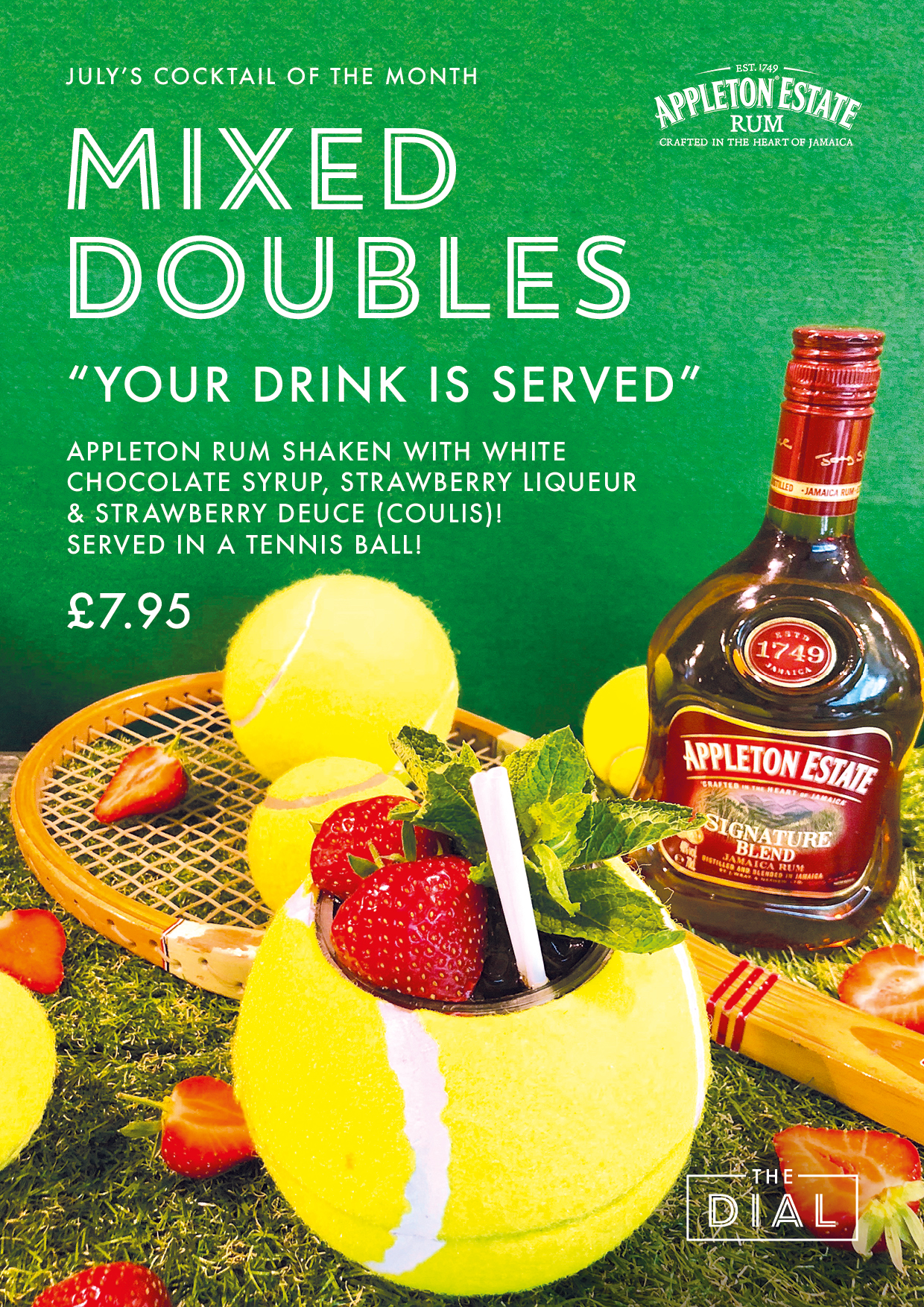 The estate has made up a lot of renown and success thanks to the high quality of it's products. The location and unique lush nature of the geographical demarcations are what sets the rum apart. It is where it is made that makes it so special. The signature blend that we use is a blend of 15 different golden rums with an average age of 4 years; creating a medium sweet rum that works well in cocktails or the classic rum and coke.
Appleton, with our take on strawberries and cream and served up in a tennis ball creates the real grand slam of cocktail and we hope to see you on court 1 (the Dial) to test it out.