"Let's get this par-tea started"
If you were to list the top ways you like to unwind what would they be? Relaxing on the sofa with a rom-com? Catching up with friends? Maybe all of the above. However I bet one thing will always come to mind; the warm embrace of a hot cuppa!
"March is here & spring has sprung (kind of)."
We are always in the mood for a par-tea here at The Dial! So we thought why not take a spoonful of joy from going for a drink with friends and mix it with the relaxing feel that only comes from the oh-so English tea.
This March, let us introduce you to our latest cocktail of the month, we have mixed Brugal añejo, lime, mint, sugar and a hint of green tea to create this twist on a classic mojito!
"We proudly present; the MOJ-TEA-TO!"
Us Brits love a cuppa so we have decided to serve our cocktail of the month in a teapot, complete with crazy straw. This delight is not just for the afternoon though, Brugal, one of our most loved rums here at The Dial, makes this pot of tea a little bit naughty compared to your afternoon tea of choice!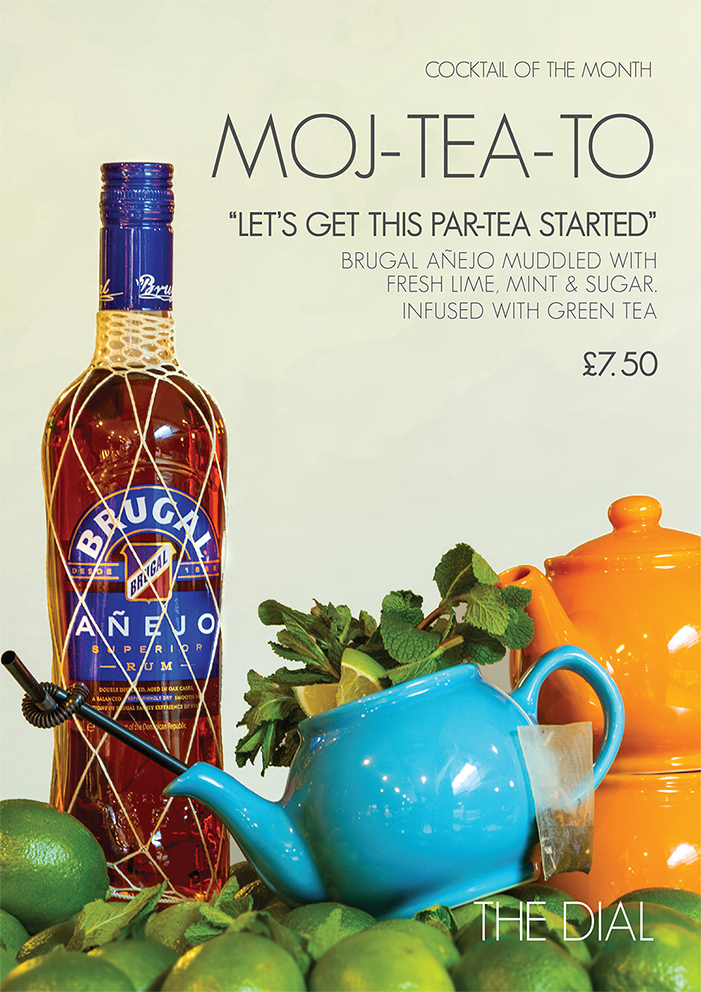 Our mixologists love a challenge and have added the green tea to give a smooth taste to the classic cocktail. Many believe that green tea has numerous health benefits, it is refreshing and stimulating, added with the lime and mint in a mojito you have a thirst quenching, invigorating cocktail. You can even make it at home without the rum for a unique drink to keep you revitalized.
So this month, pop down to The Dial for a tea party with a twist and enjoy a moj-tea-to cocktail.
Remember to tag us in your social media posts with #mojteato & #TheDial to be in with a chance of winning some great prizes!