Ah man's best friend, the loyal companion that provides snuggles when it's cold, comfort when you're down and smiles when it's being a good doggo. Yes man's best friend has been with us for years, even when dogs were wolves it is theorized that humans hunted with wolves, creating a dynamic duo of sorts. Nowadays they are loved so much they become part of the family, although they are still not allowed to eat at the dinner table.
In honour of this faithful companion we thought we would pair our cocktail of the month with another companion that has never let us down; gin! In particular we are using the outstanding Bulldog gin! No it's not a gin made specifically for dogs, although you can get Pawsecco for the dog divas out there. Bulldog is a cracking English gin made with 12 international botanicals including Dragon eye, lotus leaves and lavender then distilled four times to create a smooth taste to set your tail wagging, if you had one.
This month we are bringing you…
Pooch Hooch!
We are barking mad about this one. We have carefully hounded down the best mix including a healthy measure of Bulldog gin with raspberry liquor, fresh lemon and raspberries, and all topped up with the crisp, premium taste of Schweppes 1783 salty lemon tonic. This tonic was created in association with some of the worlds top mixologists to bring a premium tonic that is always a great pairing with any spirit that goes in with it. A great pairing, like us with a puppy.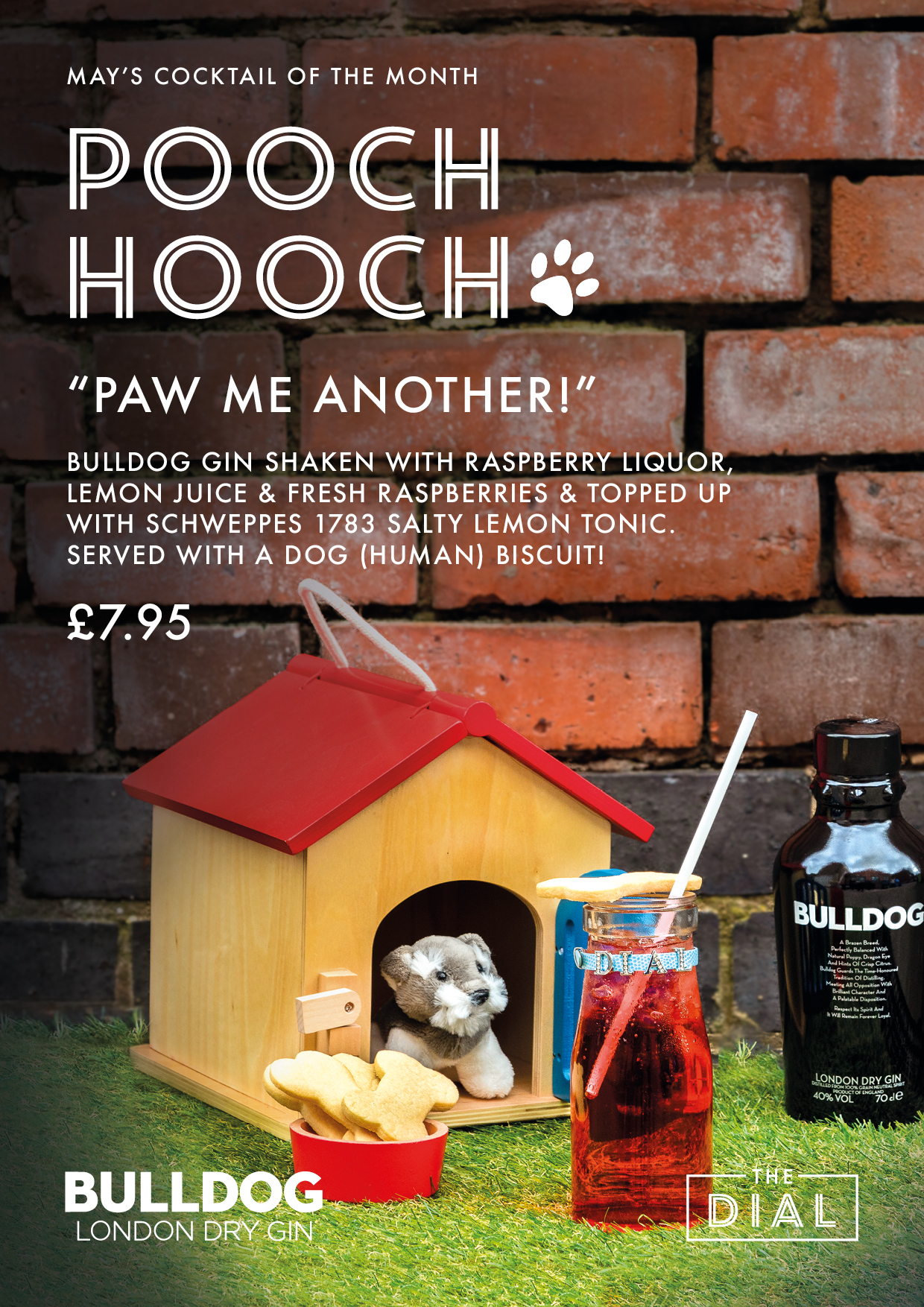 You get the crisp taste of a gin and tonic, with the natural sweetness of fresh fruit. All brought to you in a Lassi bottle with a fetching Dial collar and topped with a dog biscuit (for human consumption, like the rest of the cocktail). A dog collar you say? Well yes, take a look at the bulldog gin bottle and you will see it has a collar of its own, a rather manly spiky collar, so we decided to go for a bit of glam and get a sparkly collar for our cocktail that has the Dial spelled in diamantes. For a touch of class.
So if you like Gin we have Pawfect cocktail for you, head on down to the Dial and fetch yourself some Pooch Hooch.