We are in the age of reboots, remakes and franchising. Every film or TV show you see has to be huge success or it is considered a flop. Just take a look at the Marvel universe, Iron Man has become a household name and people go to see a marvel film in the millions. It is so big that a 'Marvel film' is its own genre. Then take a look at the DC universe, it wants a piece of the pie but critically, it just hasn't booted up to the same standards.
Luckily, we have landed on a winner with our little booty. Each year we get our booty out at around the same time (much like Michael Bublé coming out of hibernation) and taking a taste has now become symbolic with Christmas at the Dial. We are not quite at household name, franchise level, but a Dial Cocktail of the month is something to look forward too, something quirky and unique to enjoy, and Santa's Booty has earned itself the reboot it deserves each Christmas.
For those who don't know, Santa's Booty is our very own, very tasty, cocktail of the month for December. It is now in its fourth term and has become a Dial tradition. It has had a few iterations but now each year, we only tweak it slightly to give the best possible cocktail in a boot that we can.  This year we are mixing Stolichnaya Razberi and Vanil Vodka with strawberry puree, cranberry juice, lemon and grenadine. All served in Santa's own boot, topped with a pineapple foam and, of course, finished with a candy cane. It's a fruity taste from Santa, but it is the only way to kick start Christmas.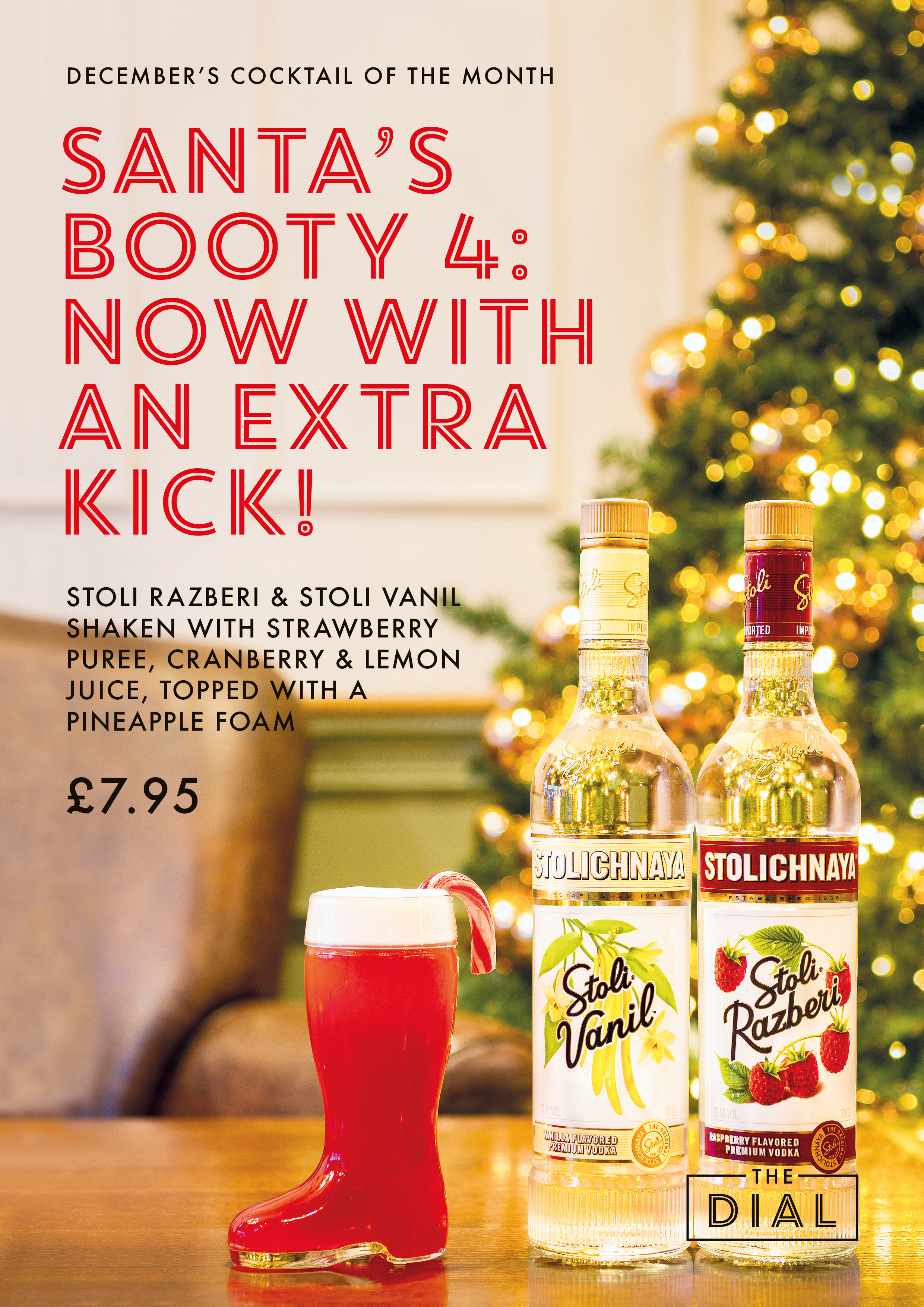 We hope to see you enjoying yourselves with your favorite festive drinks with us over the festive period.
From all of us at the Dial,
Happy Christmas
Be sure to check out the video below to see how it is made
⇓