Hello everybody and welcome to the first ever issue 19 of the Spirit Spotlight, the write up of the best spirits you can find at The Dial.
This month we are going to take a look at the legendary Pappy Van Winkle, the bourbon that is so hard to find that even millionaires cant get their hands on it. We just so happen to have a bottle and thought we would find out why it is so popular.
It all starts with Pappy himself, Julian Van Winkle, who started out as a travelling whiskey salesman and worked his way through the warehouse, on the road and into the boardroom as president of a distillery. From my brief look at the man it is apparent that he insisted on quality above all else. Take a look at their website and you will be greeted by his philosophy
"we make fine bourbon
At a profit if we can
At a loss if we must
But always fine bourbon"
Its that honest saying that lets ever so slightly lets you into the mind of a great business that deserves its popularity.
If you have ever heard of Pappy Van Winkle you've probably heard two things after it, it is expensive, and it is rare, but why? Lets start with why it is so popular. They have a range of bourbons but the one we are talking about is the 20 year aged Pappy. It is aged for 20 years….. that double and sometimes triple the ageing process of your more popular names in the bourbon industry. In fact most bourbons wouldn't even be able to last that long in the ageing process, they would deteriorate badly. However Pappy uses a sweeter mix with wheat which allows it to age nicely. This process along with everything else that goes into the ingredients creates such an exquisite bourbon that it has even been classed as a fine after dinner cognac.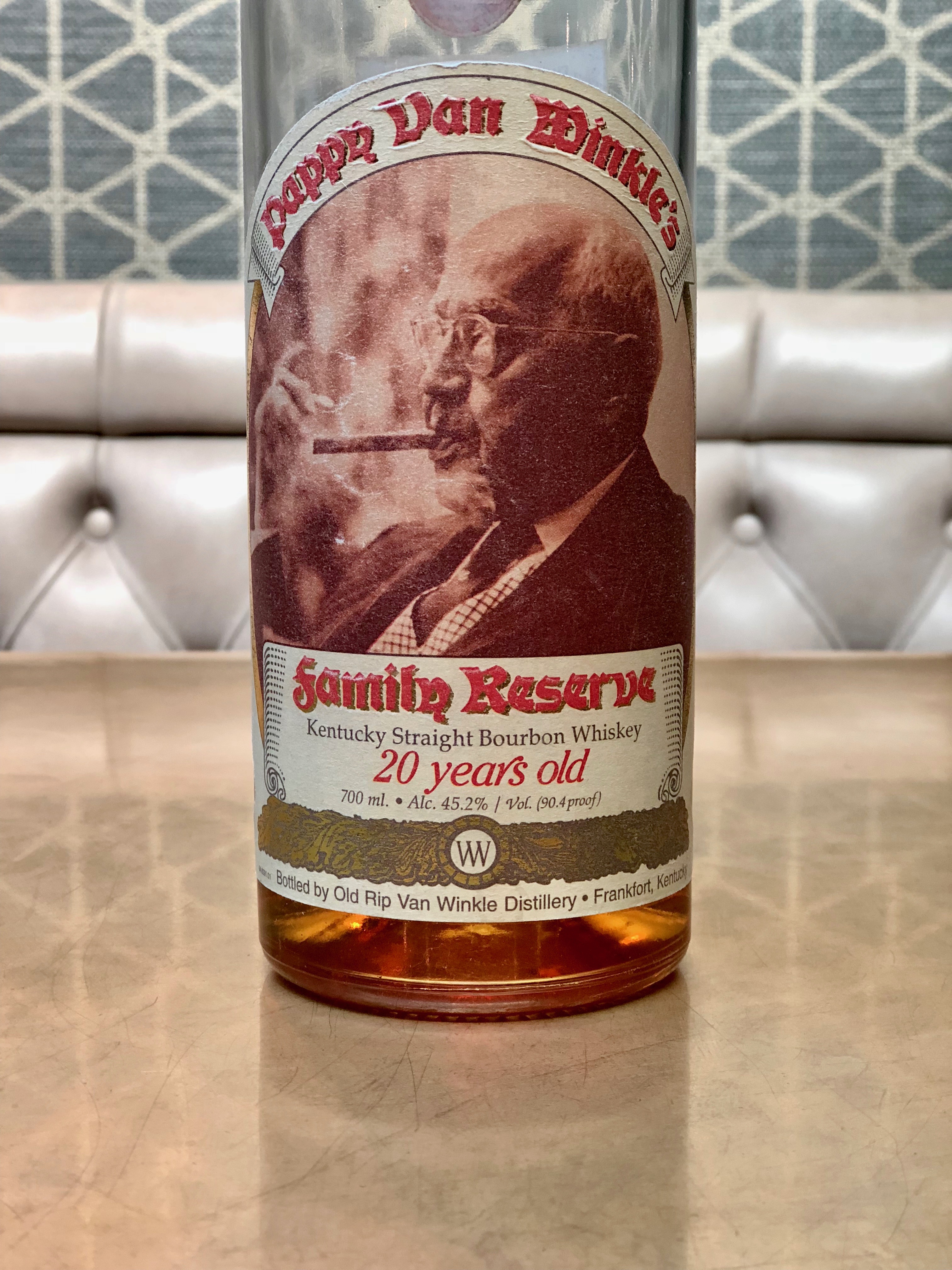 The Van Winkles got a lot of praise for how very good the whiskey, they received a high rating in the Chicago Beverage tasting institute which in turn led to many awards in tasting competitions. These awards in themselves were the best advertisements and before they knew it the word of mouth about how great this whiskey is was spreading like wild fire. This has led to a simple supply and demand problem. The whiskey takes 20 years to perfect and they only release stock once per year, roughly 8000 cases get released each year and thus the demand is high, but the supply is low, making it rarer to find than Big Foot. It was rare, then in 2015 it got even rarer when they announced that roughly half of their barrels did not reach the high standards set by Pappy all those years ago.
With the supply cut in half, the demand as high as ever, the value of the bottle sky rocketed. The Van Winkles have set a recommended retail price of $169.99, and they stick to that, boldly stating that they are aware of retailers charging more against their RRP. They are not legally allowed to sell it themselves and so have to supply it to wholesalers who then distribute it to retailers who set their own prices. With the rarity of the Bourbon it isn't uncommon to see it being sold for as much as £2000.
But does it taste any good? Of course it does! It is considered to be one of the best and unique, above all others. We recommend only ever drinking it neat or over ice. Anything else would only take away from this great bourbon.