Hello everybody and welcome to the first ever issue 20 of the Spirit Spotlight, the write up of the best spirits you can find at The Dial. Blimey, it's our 20th anniversary, that means with this issue we will have studied 20 different unique spirits that you can find at the Dial, we are on our way to being the encyclopaedia of spirit knowledge. Speaking of spirits, we are going to look at a slightly spooky one this month with the arrival of the Crystal Head Vodka.
Crystal Head Vodka was first given life back in 2007 when the idea for a truly natural vodka was conceived. Most vodkas you find today contain additives, sugars or oils to give a certain taste and mask what the spirit actually tastes like. Crystal heads main emphasis is on purity and giving you a vodka that just tastes good while staying pure; which back in 2007 was something that the market lacked.
The idea for Crystal head was conjured by Dan Aykroyd and the artist John Alexander. You probably know Aykroyd from one of the biggest pop culture franchises in the past 40 years; Ghost Busters! Dan Aykroyd being an actor and business man wanted to create his new vodka business after not being able to find a non additive vodka, he decided to just make one himself.
The bottle was designed based on their fascination with the legend of the thirteen crystal skulls; ancient skulls made of quartz (rock crystal) alleged to be exhibit paranormal phenomena, such as giving visions and causing life saving miracles. Although they may look scary and you would be forgiven to think that the skulls represent doom and gloom, their history actually points more towards the betterment and prolonging of life. Not too bad.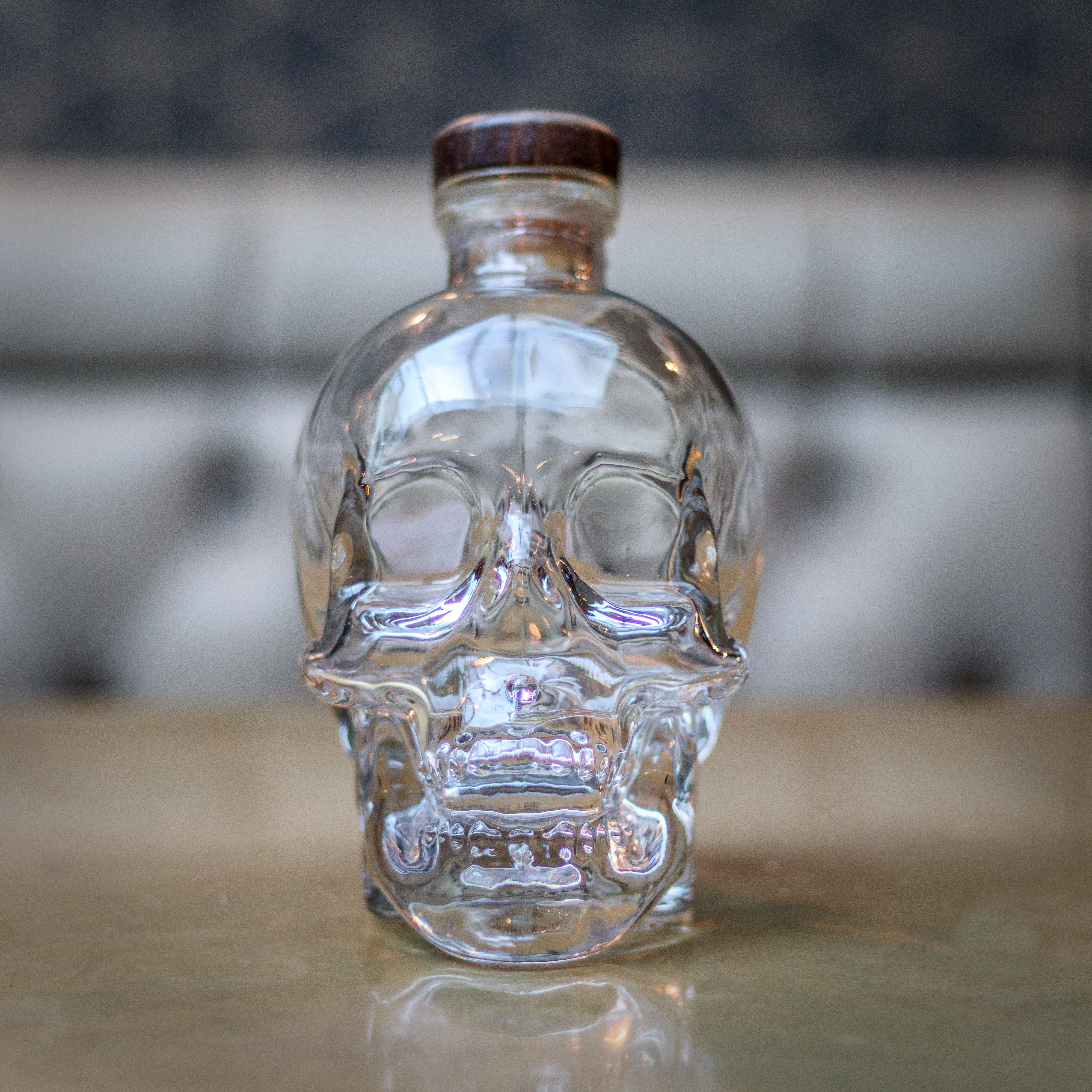 With Aykroyd and Alexanders vision for the Crystal Head secured, production took about two years and was in development at the same time as Indiana Jones and the Crystal Skull was being made. Fearing a conflict between the two, Aykroyd went to Steven Spielberg to resolve any issues and it was Spielberg who actually wanted to use Crystal Head at the premiere of his film.
So how is it made? Well they use peaches and cream corn which are distilled with neutral grain spirit and blended with pristine water from Newfoundland, Canada. It is then filtered seven times, three times of which is through layers of Kerimer Diamond crystals, which are a semi precious rock, given the name diamond due to their clarity. After which the liquid goes in to the unique crystal head glass bottle, made in Milan. The crystal head represents power, life and enlightenment, in keeping with the legends of the crystal skulls.
The end result is a multi award winning, silky smooth vodka with hints of vanilla. We recommend trying it neat, over ice or in a vodka martini. Give it a go, if only to try drinking from a crystal skull.