Hola everybody and welcome to the first ever issue 21 of the Spirit Spotlight, the write up of the best spirits you can find at The Dial. This issue we are going to talk about rum! This one is the sort you would associate with pirates however, instead it hails from the Canary Islands, bottling the spirit and tradition of the islands in the sunny taste of Ron Aguere Vintage Honey rum.
Ron Agure is produced on the North West Coast of Tennerife, and you have ever visited the islands you will likely remember sunny climates and beautiful beaches. In fact Tenerife is one of the busiest tourist destinations of the canary islands (and the world) bringing 5 million tourists each year; thanks to its sub tropical climate, gorgeoud surroundings, delicious food and tasty drinks.
You would think that the name Canary Islands is synonymous with the little yellow birds that like to go mining, however (fun fact alert), it actually translates to island of dogs. Now I love dogs so much, even though I'm allergic, so these islands sound amazing. However translate the name further into Latin it actually means sea dogs, so it is thought to be associated with seals. Still cool. If you look further into the history of the island, the legends say that when the Romans invaded the islands, they gave the island the name 'Canarii', which translates to "the ones with dogs". This is because it is believed that the original inhabitants of the island used to worship dogs, mummifying them and treating them as holy animals.
So how does this tie into a rum? Well it is to say that Ron Aguere is able to capture the essence of the island which a long rich history that is able to energise your spirits.
Ron Aguere is made on the islands, is a fusion of multiple rums in old oak barrels in a long maturation process that lasts 7 years. The rum is blended with pure bee honey creating a super premium, super smooth rum that has a rather low ABV of 30%, which is under the average for rums but allows for a smoother taste, while still warming, and the honey infusion makes it a sweet tipple that is luxurious on the palate.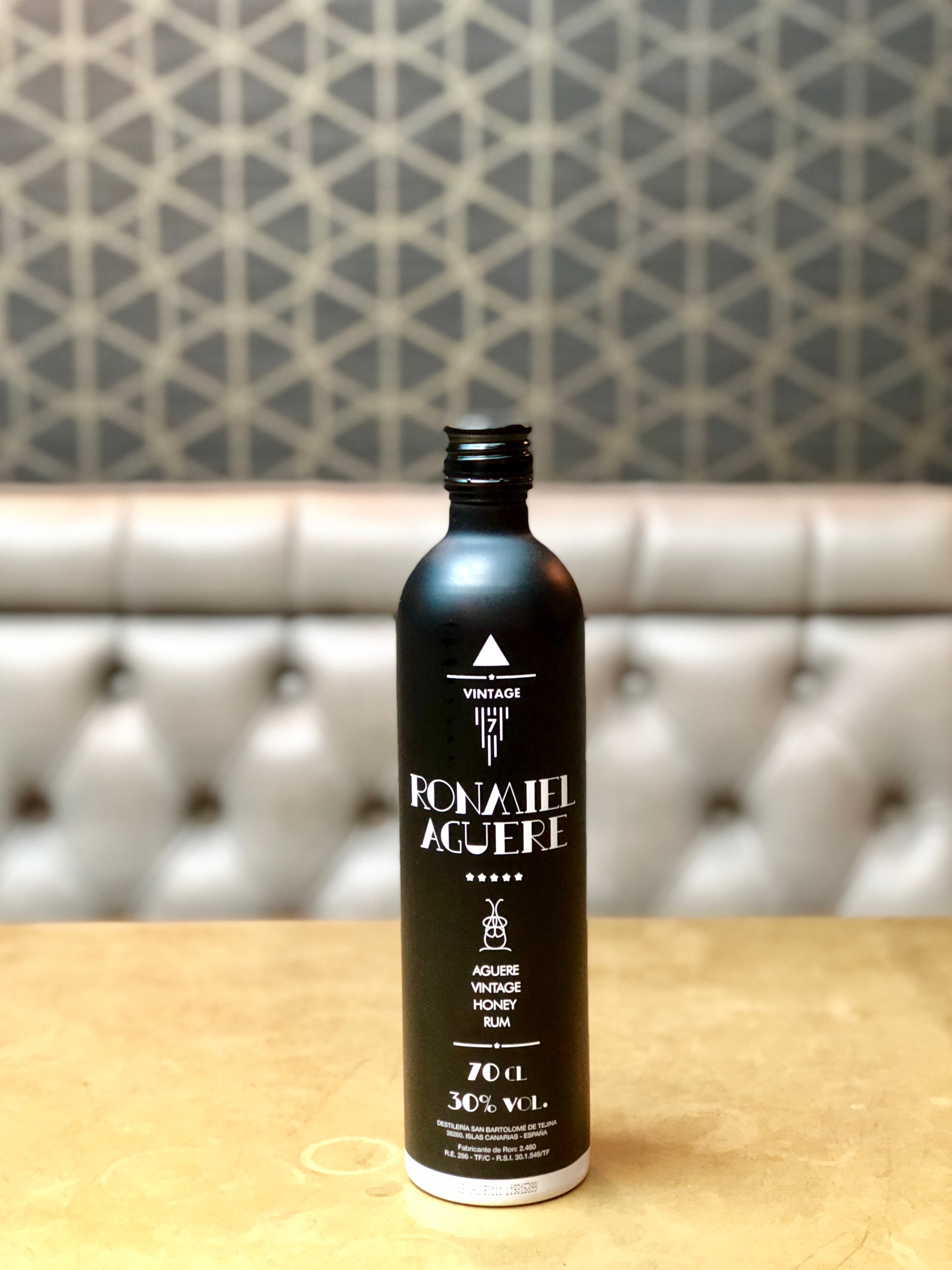 The next time you are in the Dial or on the Canary islands, be sure to check out Ron Aguere Vintage Honey Rum, try it chilled or in a cocktail
Mix
75ml orange juice
25ml pineapple juice
50 ml honey rum
And half a shot of grenadine
Shake hard and pour over ice in a long glass.
Or you can try it in a mojito for a sweet twist on the classic.
Whatever you do, we hope you enjoy it and ask any of us at the bar for suggestions for something different from the norm.