Hello everybody and welcome to the first ever issue 24 of the Spirit Spotlight, the write up of the best spirits you can find at The Dial. This issue we are looking at the popular and unique Bobby's Schiedam Dry Gin
You've probably heard of Dutch Courage and probably needed some yourself from time to time, but have you ever wondered what it really is? Well all the way back in 1777, Herman Jansen distilled his first malt wine gin in Schiedam, the Netherlands. This Gin would be exported to England and over time would be known as London Dry Gin. Jenever, otherwise known as Dutch Gin, was used by English Soldiers during the Anglo-Dutch Wars for its calming effects before battle and for its warming effects on the body in cold weather (although it actually lowers your body temperature) and it is purported that this is the soldiers taking Dutch courage before they fought. It is also believed to derive from English Soldiers noting the bravery inducing effects of Jenever on the Dutch soldiers.
So Dutch courage has a winding history but it all comes down to that Dutch Jenever Gin and that is where our story of Bobby's gin starts. You see a man named Jacobus Alfons, known as Bobby to his friends and family migrated to the Netherlands from Indonesia back in the 1950s. Bobby loved a bit of Dutch courage but missed the taste of home and so started infusing the Jenever with Indonesian spices and herbs, he didn't know it at the time, but he had unknowingly created his own gin.
Fast forward 60 years to 2012 and Bobbys grandson, Sebastiaan discovers an old bottle of Bobby's homemade gin in his mother's house. Sebastiaan gets inspired by his grandfathers story and his unique recipe and travels to Schiedam himself, the place where gin started. It is there he meets a 7th generation master distiller of Herman Jansen, the original creator of Dutch courage. Together they start to work on perfecting Bobby's recipe, blending the tradition of Schiedam Jenever with the best Indonesian botanicals and spices.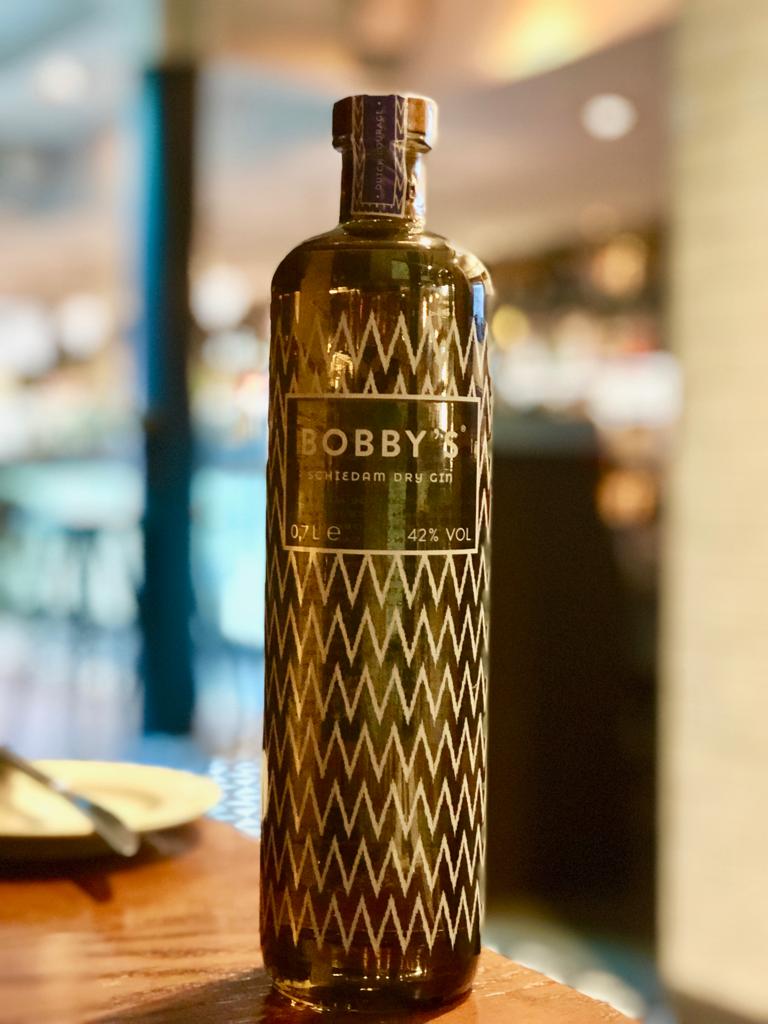 The successful goal was to blend a taste of the West and East, only using organic ingredients with no additives, sugars or extractions. Two years later the recipe is perfected and the gin is named after Grandfather Bobby himself. The final recipe contains 8 botanicals, each separately distilled before being infused together and they are a mix of east and west like they set out to do, these include Juniper, lemongrass, cloves, coriander, cubeb pepper, rose hips and fennel. The recipe is so good that within its first two years it has won 2 gold medals and is becoming available worldwide.
If you like your classic gins and are looking for a classic with a fresh twist, then you would be remiss to pass over Bobby's. try it next time you go for a G&T, but make sure you get your measures right, we recommend having 50ml of Bobby's Gin with 150ml of your favourite classic tonic. Better yet you could try it in a cocktail, Bobby's have created their own unique twist on a classic gin martini, called 'Grandson' and it goes a little something like this:
In a lowball glass add 35ml Bobby's gin
35ml dry vermouth
2 dashes of orange bitters
Fill the glass with ice and stir until ice cold.
Garnish with a twist of orange peel and enjoy.
We hope you give Bobby's a shot the next time you visit us and as always, we will see you at the bar.