Hello everybody and welcome to the first ever issue 33 of the Spirit Spotlight, the write up of the best spirits you can find at the Dial.
The gin boom is massive, that's not in question. What people thought was a craze has become peoples favourite drink. The gin craze has proven it is here to stay so if youre a fan of gin you might as well keep riding that wave of gin and tonic. But a new craze has started, one that is accompanying the perfect "#insta" lifestyles where everyone works out and looks perfect from every angle. Of course you cant surely have that gym look and still enjoy 5 pints every weekend, but you also cant always have a sugary drink instead when going out. So what to drink what you're not drinking? That's the message that is on the landing page of the Seedlip website. A great question and one that the creator of Seedlip has answered to much acclaim.
Seedlip started life as anything else, as an idea. The creator, Ben, had been experimenting with making gin in his kitchen, using a small copper still and a few ingredients from his garden. Bens family were farmers in Lincolshire and they were hand sowing seeds using baskets called "Seedlips", So Ben had a good idea of what Botanicals actually were unlike the rest of us. But his experiments wete exactly that, experiments. They were not to see the light of day if it weren't for Ben having a bad experience with a sugary drink while at a restaurant and wanted a grown up drink when not 'drinking'. So grabbing the lightning of an idea Ben got to work, combining his farming heritage, love of nature, his copper still and old recipes with the need for a proper non alcoholic drink. And the name, well you know where he got that from now.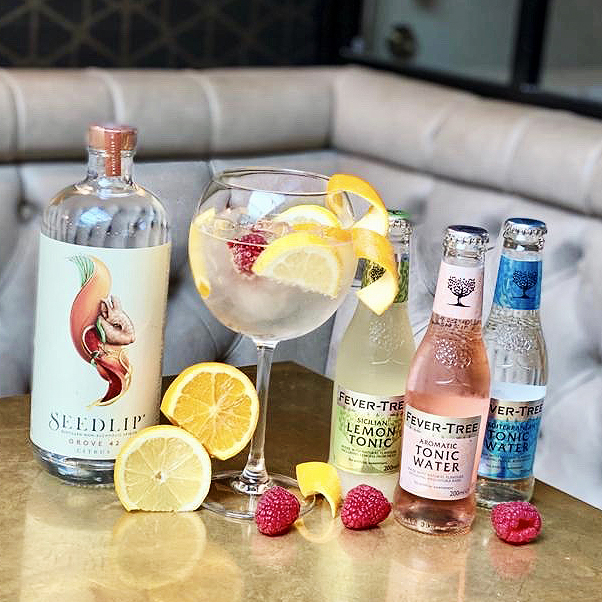 The pay off has been beyond anyones wildest dreams, Seedlips first appearance at Selfridges sold out in weeks, its next appearance was days the next? Minutes.
Seedlip has become the foundation for properly distilled non alcoholic spirits and the future, where more and more people don't actually drink alcohol, will look to Seedlip first as the drink of choice. It won't be long before the giants of the scene start to develop their own brands, but for now and for the foreseeable future, Seedlip reigns king.
What to have it with it?
As a non alcoholic gin we recommend trying seedlip with a premium tonic of course! However try it with a flavoured tonic that compliments the flavour of seedlip, a nice aromatic tonic would only enhance the aromatic seedlip. You could even make a mocktail out of it using 25ml Seedlip Grove, 25ml Raspberry and lemon cordial and topped up with soda.