Hello everybody and welcome to the first ever issue 30 of the Spirit Spotlight, the write up of the best spirits you can find at the Dial. This issue we are unlocking the doors to Cross Keys Gin.
Our story begins 1000 miles north from Berlin where the crown jewel of the Baltic coast lays; Riga, the capitol of Latvia. It is a thriving port city and during its medieval days was ruled by the bishops of the Catholic church. But there is another side to Riga as it is the home of rebels, the cradle of revolutionaries and its histories has inspired many unique and rebellious drinks; the first of which was the Herbal Bitter Black Balsam, an alchemic experiments whose recipe is still locked up and kept a secret to this day.
This gin takes its name from the iconic symbology of the crossed keys, it can be a symbol for urban hospitality and it is found on Rigas Heraldry where it symbolizes the patronage of the Pope and the protection of the keys of St. Peter or the it might be easier to say the keys to heaven as held by St Peter, the gatekeeper.
So what is Cross Keys Gin? Well it is heavily inspired by the first Black balsam experiment, a traditional herbal spirit and Cross Keys gin is created by the same master distiller who blends balsam today. It is made with four natural botanicals, camomile; known for its soothing properties enriches the taste with bitter notes and soothing nectar. Juniper gives a taste of the wilderness, Linden Blossoms for a taste of honey and Rosemary to balance it all out with subtle herbal notes.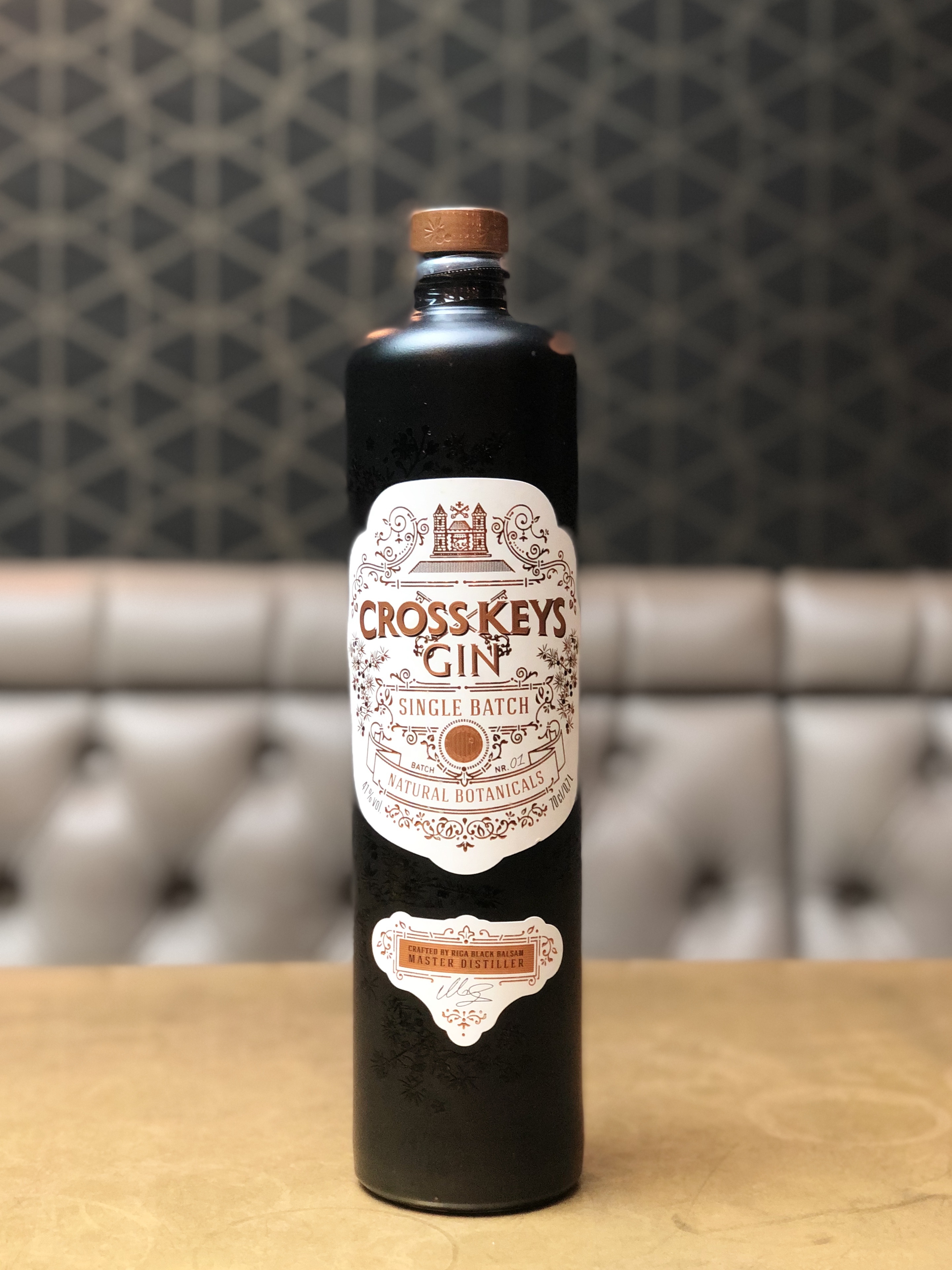 The recipe requires great care to get just right and as such it is only made in small batches, using local and native botanicals in Latvia and distilled in Riga. All of this bottled in a natural black clay bottle which enhances the natural ageing process of the gin.
Crossed Keys Gin is made with such care and balanced so well that it can be enjoyed as much neat as it is with tonic, as such we recommend trying it in a gin martini or if you have a sweeter palette, try it in a traditional Tom Collins cocktail.