Tom (or Shippo as he is known round here) began his journey at The Dial in May 2014, starting off working in the restaurant and more recently moving onto the bar.
He was promoted to the position of supervisor on the 12th of November after a lot of hard work and great service.
When asked what he enjoyed about The Dial he said:
"I Love working at The Dial: I love working amongst the best people in Burton. Work at The Dial is always changing, no two days are evert he same, even after over 2 years of service! A different challenge every shift helped me develop all sorts of skills. Working on the bar making cocktails is always good fun at the weekends!"
Tom is currently studying at University. In his spare time he enjoys working out and is a junior powerlifter with hopes of making it to national level! (We could do with his help putting away all of these Christmas deliveries!)
We are all very much looking forward to having our newly promoted supervisor back at Christmas!
FUN FACTS:
Favourite film: The Equaliser
Favourite song: A match made in heaven by Architects
Favourite dish: The Dial's chicken burger (in fact, he went through a stage of having one before starting every shift)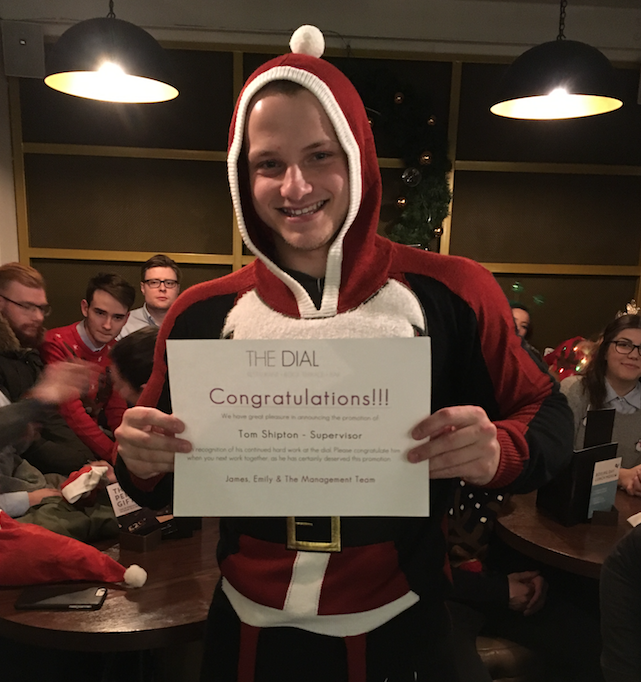 Testimonials:
"Shippo is a real team player, a great all-rounder and nothing his too much trouble for him" – Jess, Manager
"Shippo is a real pleasure to work with & gets on well with the whole team"- Kate, Manager
"Tom strives for greatness is everything he does and is a pleasure to have back from uni" -Jeremy, General Manager
So if you're in around Christmas time, say hello & congratulations!